Harold Phillips
| | |
| --- | --- |
| Date and Place of Birth: | September 7, 1915 Dougherty County, GA |
| Date and Place of Death: | August 9, 1945 Smiley, TX |
| Baseball Experience: | Amateur |
| Position: | Catcher |
| Rank: | First Lieutenant |
| Military Unit: | USAAF |
| Area Served: | United States |
Harold G. Phillips was born in Dougherty County, Georgia on September 7, 1915. During World War II he served as a first lieutenant with the Army Air Force at Foster Field, Texas and was with the Foster Field Falcons baseball team.
On August 9, 1945, the Falcons traveled to Childress Army Air Base in Texas for a ballgame. The Falcons won that contest and five of the players - Phillips, Duard Lawson, Les Clotiaux, Chester Seipp and Pete Zarrilla, along with pilot Second Lieutenant Peter R. Davis - flew back to Foster Field in a twin-engined Beechcraft AT-7 Navigator airplane. On the return journey the plane crashed near Smiley, Texas and burst into flames. 1/Lt. Phillips and the other five men on board were all killed.
Harold Phillips is buried at Calvary Cemetery in Toledo, Ohio.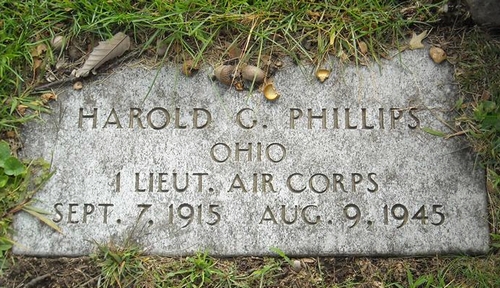 Date Added July 15, 2013 Updated July 22, 2013
Can you add more information to this biography and help make it the best online resourse for this player? Contact us by email
Read Baseball's Greatest Sacrifice Through The Years - an online year-by-year account of military related deaths of ballplayers
Baseball's Greatest Sacrifice is associated with Baseball Almanac
Baseball's Greatest Sacrifice is proud to be sponsored by