Pete Zarrilla
| | |
| --- | --- |
| Date and Place of Birth: | August 8, 1922 New Castle, PA |
| Date and Place of Death: | August 9, 1945 Smiley, TX |
| Baseball Experience: | Minor League |
| Position: | Outfield |
| Rank: | Corporal |
| Military Unit: | US Army Air Force |
| Area Served: | United States |
Peter J. Zarrilla played football and basketball at New Castle High School in New Castle, Pennsylvania, and played the outfield with the Columbus Club of the City Baseball League. In late February 1940, he was one of five local youngsters who attended the All-American Baseball School at Palatka, Florida. With Babe Ruth as one of the instructors, the training camp ran for five weeks and Zarrilla began turning heads with his hitting, defensive work and speed. "Scouts of the Indianapolis team of the American Association have cast covetous eyes on the work of Pete Zarrilla," announced the New Castle News. "He has been hitting the ball hard and is fast learning the rudiments of big league baseball. He is one of the fastest men in the Florida camp." [1]

In late March, Zarrilla was given a tryout with the St. Augustine Saints of the Class D Florida State League. Although he was not signed by the Saints, he was offered a contract on April 10 with the Hollywood Chiefs of the Class D Florida East Coast League. The 17-year-old's baseball career in Florida, however, was short-lived. After a handful of games he returned home to New Castle and played the rest of the season with the Lawrence Independents, City League champions.

Zarrilla had another professional tryout in 1941, this time with the Knoxville Smokies of the Class A1 Southern Association, but was also released early in the year. In 1942, he gave the professional game another try and signed with the Greeneville Burley Cubs of the Class D Appalachian League. He got off to a great start and was batting .287 when the team disbanded on June 14. Zarrilla was then picked up by the Elizabethton Betsy Red Sox of the same league, but the team already had an established outfield and he returned home to New Castle, where he played for St. Margaret's in the City-County Independent Baseball League.

Zarrilla entered military service on September 19, 1942, and served with the Army Air Force at Randolph Field, Texas. He later served at Foster Field in Victoria, Texas, where he was an outfielder on the Foster Field Falcons - a strong contender in the South Coast Victory League - and played halfback on the football team. He also had time for a little romance and on November 1, 1944, he married Betty Cass, a personnel clerk at Foster Field.

On August 9, 1945 - the day after his 23rd birthday - the Falcons traveled to Childress Army Air Base in Texas, for a ballgame. The Falcons won the contest and five of the players - Zarrilla, Duard Lawson (an amateur first baseman from Princeton, Texas), Harold Phillips (a semi-pro catcher from Georgia), Chester Seipp (a semi-pro shortstop from Pasadena, Maryland) and Lester Clotiaux (a Refinery League catcher from Nederland, Texas), along with Second Lieutenant Peter R. Davis (a veteran transport pilot with 1,500 hours to his credit) flew back to Foster Field in a twin-engine Beechcraft AT-7C airplane. On the return journey the plane crashed and burst into flames near Smiley, 60 miles east of San Antonio, Texas. Corporal Zarrilla and the other five men on board were all killed. [2]
Zarrilla's son, Peter, Jr., was just one month old when his father was killed. Corporal Zarrilla's body was returned to New Castle and now rests at St. Lucy's Cemetery.
Team

League

Class

G

AB

R

H

2B

3B

HR

RBI

AVG

1940
Hollywood
Florida E. Coast
D
-
-
-
-
-
-
-
-
-
1941
Knoxville
Southern Assoc
A1
-
-
-
-
-
-
-
-
-
1942
Greeneville/
Elizabethton
Appalachian
D
36
143
23
41
3
3
2
25
.287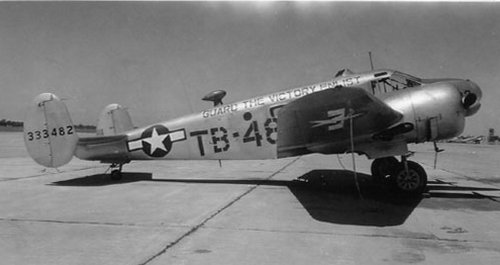 A Beechcraft AT-7C. The type Pete Zarrilla was aboard on August 9, 1945.
Notes
1. New Castle News, March 7, 1940
Thanks to Peter Zarrilla, Davis O. Barker and New Castle Public Library for help with this biography.
Date Added May 31, 2012 Updated June 13, 2014
Baseball's Greatest Sacrifice is associated with Baseball Almanac
Baseball's Greatest Sacrifice is proud to be sponsored by