Military Team Tragedies
While more than 400 ballplayers have lost their lives in military service not all have been isolated incidents. On a number of occasions, a military baseball team, often in transit from one place to another, has suffered fatalities. Here are the stories of six such events:
Tragedy of the USS Maine
- 1898
In Florida, in December 1897, the baseball team of the battleship USS Maine defeated a team from the cruiser USS Marblehead, 18-3, to earn the title Navy baseball champions. Led by engine stoker and pitcher William Lambert of Hampton, Virginia, the only black player on the team who was described as "a master of speed, curves, and control," the team's next game was scheduled with an all-star squad in Havana, Cuba.
On February 15, 1898, Marine Corps Fifer C.H. Newton, the ship's bugler and the ball team's third baseman, blew taps as the Maine bobbed listlessly in Havana Harbor. Shortly afterwards, the Maine blew up, killing 261 of the crew and all but the baseball team's right fielder, John Bloomer. In addition to Newton, the bugler, the ballplayers killed that evening were Ordinary Seaman William H. Gorman (second base) of Boston, Landsman Charles Hauck (centerfield) of Brooklyn, Landsman William L. Hough (first base) of New York, pitcher William Lambert, Apprentice First Class Benjamin L. Marsden (catcher) of Jersey City, New Jersey, Landsman John Merz (shortstop) of Brooklyn, and Landsman William H. Tinsman (leftfield) of East Deering, Maine. Also killed were the team's manager Gunner's Mate First Class Charles F. W. Eiermann of New York, and Seaman Leon Bonner of New York, the manager's assistant. In addition, to lose his life aboard the Maine that night although not a member of the ship's team was Yeoman Third Class John H. Shillington of Chicago, who had played shortstop with Notre Dame.
Two months after the loss of the USS Maine, April 25, 1898 saw the start of the Spanish-American War, during which the rallying cry, "Remember the Maine! To Hell with Spain!" was frequently heard.

Plane Crash at Victorville, California - 1943

On Sunday, May 23, 1943, the Victorville Army Air Base Bombers were scheduled to play a game in Las Vegas, and a number of the players were going to fly there. The short flight was to end in tragedy.
The official story released by the military claimed a Beechcraft AT-11 Kansan was struck by another AT-11 while on a bombardier training exercise. One plane crashed at Silver Lake, California, about 90 miles from Victorville, killing all on board, while the other plane, which suffered minimal damage, managed to land safely back at the airfield. In truth, the two planes were heading to Las Vegas for the ball game and the pilots were playing games with each other when one plane cut the tail off the other. On board the crippled AT-11 were 2/Lt. Harold B. "Hal" Dobson, a former minor league pitcher, Sgt. John A. Lowry, a semi-pro ballplayer from Arnold, Pennsylvania, and Sgt. William E. Thomas, a semi-pro player from Pittsburgh. They were all killed along with the pilot, 2/Lt. William S. Barnes.
| | |
| --- | --- |
| Hal Dobson | |

Plane Crash at Foster Field, Texas
- 1945
On August 9, 1945 – the Foster Field Falcons traveled to Childress Army Air Base in Texas, for a ballgame. The Falcons won the contest and five of the players – Cpl. Peter J. Zarrilla, Sgt. H. Duard Lawson (an amateur first baseman from Princeton, Texas), 1/Lt. Harold G. Phillips (a semi-pro catcher from Georgia), S/Sgt. Chester V. Seipp (a semi-pro shortstop from Pasadena, Maryland) and Cpl. Lester O. Clotiaux (a Refinery League catcher from Nederland, Texas), along with 2/Lt. Peter R. Davis (a veteran transport pilot with 1,500 hours to his credit) flew back to Foster Field in a twin-engine Beechcraft AT-7C airplane. On the return journey the plane crashed and burst into flames near Smiley, 60 miles east of San Antonio, Texas. All six men were killed.
| | |
| --- | --- |
| Les Clotiaux | |

Army Truck Hits Train in Belgium
- 1945
Following the German surrender in May 1945, military baseball teams travelled across Europe entertaining troops. It was while traveling with the Army team near Brussels in Belgium that tragedy struck. The ball team was riding in the back of an Army truck when it struck a train. Among the injured was former minor league outfielder Sgt. Eugene L. Dellinger. Dellinger was badly burned and evacuated to the Veterans Hospital in Tuscaloosa, Alabama. He was transferred to the Northington General Hospital before succumbing to his injuries on January 31, 1946.
Negro 440th Port Company Team Plane Crash at Iwo Jima - 1946
During the afternoon of November 16, 1946, the 440th Port Company baseball team were flying back to Iwo Jima after having taken part in a tournament on Guam. Aboard the Curtis C-46F Commando (44-78961) transport plane, piloted by Captain James C. Queen, were four other crew members, four US Army personnel and the 15 African-American members of the baseball team. Heavy cloud cover made the approach to Iwo Jima difficult and as the twin-engined plane approached Airfield No. 3 it was too high and missed the runway. The plane was still descending, however, and hit the water just off the island. It rapidly sank and all on board lost their lives.
The 440th Port Company baseball team:
Sgt. Joseph Bowers (Camden, SC)
T/4 Fred Brown (Ama, LA)
T/5 Robert L. Goins (Loganport, IN)
S/Sgt. Vivien L. Harris (Newark, NJ)
T/5 Emanuel M. Jackson (Occoquan, VA) - 3527th Transportation Corps
T/5 Jessie L. Glover (East St. Louis, IL)
T/5 Carnell Boyd (Hickory Valley, TN)
Pfc John T. Eatmon (Brooklyn, NY)
Pfc Jonathan Culbertson (Baltimore, MD)
Pfc Clarence W. Brown (New York, NY)
Sgt. Earnest Flowers (Chicago, IL)
Cpl. Harry L. Edmonds (Canton, MS) - 3527th Transportation Corps
Pfc L.C. Hollins (Ore City, TX) - 536th Quartermaster Company
Pfc William Jenkins, Jr. (South Charleston, OH) - 536th Quartermaster Company
Pfc Robert Hillman, Jr. (Thomaston, GA)
Crew members: Cptn. James C. Queen, 1/Lt. George Eisenhaur, 1/Lt. Richard G. Davis, Sgt. Earl C. Glass and Sgt. Stanley Brudney
Passengers: Pfc George A. Knoll, 2/Lt. Dwight K. Gilbert, WOJG Alfred J. Di Pietro and Pfc Arthur Brown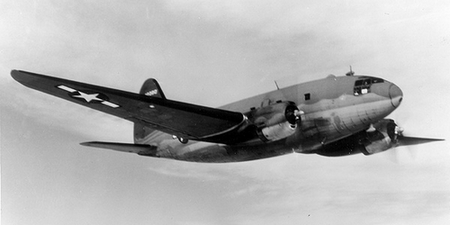 San Antonio Plane Crash - 1947
On the night of April 9, 1947, a U.S. Army Douglas C-47D Skytrain (43-49258), took-off from Kelly Field in San Antonio, Texas, enroute to Davis Monthan Field at Tucson, Arizona. Onboard were three crew members and sixteen African-American military baseball players headed to a tournament. Immediately after take-off the plane was in trouble. It cleared some homes adjacent to the airfield then crashed in a cotton field and burst into flames. Many of the players were injured and taken to the hospital at Kelly Field. There were two fatalities - Sgt. Marvin L. Tapp - who was a crew member and died in the crash, and Captain Walter A. Meadows, who died in hospital on April 13.

Crew:
Cptn. Walter A. Meadows (pilot) - died April 13
Lt. Simeon L. Rawls (co-pilot)
Sgt Marvin L. Tapp - died in crash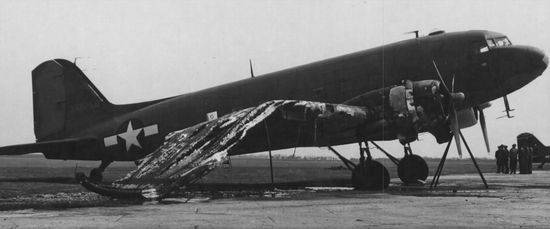 This is the actual C-47 (43-49258) after suffering wing damage in Europe in 1945.
Dutch Harbor Tragedy
- 1947
In August 1947, the Dutch Harbor Army-Navy all-star softball team (made up of seven Navy players from the Dutch Harbor Naval Operating Base, Alaska, and six Army players from nearby Fort Mears), were playing in an Alaska-wide tournament held at Kodiak on Kodiak Island. Team players included Y2C William R. Loftus (an amateur outfielder from Omaha, Nebraska), T/5 Delmar E. Nowak of Alpena, Michigan, T/5 Angus MacKay of Detroit, Seaman First Class Cecil H. Suitt of Lake Village, Arkansas and M/Sgt. Jacob R. Swander (a 12-year Army-man from East Altoona, Pennsylvania). Swander's 3-year-old son had been scheduled to make the trip with his father because the team's catcher had a broken thumb and couldn't play, leaving a spare seat. At the last minute, the catcher decided to go and Swander's son lost his seat on the plane to Kodiak Island.
After the tournament finished, the 13-man team left Kodiak on August 6, at 0626 hours to make the 600-mile journey to Dutch Harbor aboard a U.S. Navy Consolidated PBY-5A Catalina (V34032) flying boat. The PBY had a crew of five (including John Duval, Seaman First Class Pervis L. Bangert and Bryce S. Herndon) plus two other Navy passengers (including Lt. Cmdr. Willard A. Ethridge) as well as the team. Pilot-in-command Lt. (jg) William H. Zeigler and co-pilot Lt. (jg) Nave A. Fuliehan, made their last report at 1045 hours about 150 miles from Dutch Harbor. After that, the PBY was never seen or heard from again.
A major search was conducted in the hope that the plane might have made a safe landing in sheltered waters along the route, with its radio damaged. Joining the search were transient aircraft and military planes from Fort Randall, Fort Richardson, Kodiak and Adak. The Navy cargo ship USS Sussex, enroute to Adak, was sent to the area to direct the surface operations, in which Coast Guard vessels and the Navy fleet tug USS Potawatomi participated.
All searches failed to locate anything that might indicate what happened to the PBY. A year later, with still no trace of the plane or passengers, all 20 passengers were declared dead. Ironically, many of the Navy personnel were due to have been discharged from service three weeks after the tournament. Some years later, wreckage that washed ashore at St. George Island, Alaska, is believed to have come from this plane.
Players identified as being on the plane:
Y2C William R. Loftus, Omaha, Nebraska
T/5 Delmar E. Nowak, Alpena, Michigan
T/5 Angus MacKay, Detroit, Michigan
Seaman First Class Cecil H. Suitt, Lake Village, Arkansas
M/Sgt. Jacob R. Swander, East Altoona, Pennsylvania
A Consolidated PBY-5A Catalina at Kodiak Naval Air Station
13th Air Force Plane Crash - 1947
On September 20, 1947, the 13th Air Force baseball team was returning to Clark Field at Luzon in the Philippines, after playing games in Tokyo and Okinawa. The Curtiss C-46D Commando (44-78263) twin-engined transport plane, which was piloted by Edwin B. Cearley, ran into bad weather over northern Luzon on the five hour flight. Off course and running low on fuel having been in the air for eight hours and 15 minutes, Cearley gave the order to abandon the airplane using parachutes. Of the 27 personnel aboard, 25 landed safely, one was killed as he left the plane and one, Corporal Vernon Meadows, was unaccounted for. Thirty-seven USAF planes were involved in the search to recover the men. The abandoned C-46 had come to rest in a cane field near Tandul in the Cagayun Valley about 160 miles northeast of Manila. It was relatively undamaged. Cpl. Meadows was found alive and well in Bontoc, a mountain province of north Luzon, on September 23.
Onboard were:
Maj. James T. Gribble of Sylva, NC
Maj. W. F. Bound
Cptn. Edwin. B. Cearley (pilot) of Selmar, TN
1/Lt. W. Weiz(x)el
1/Lt. J. F. Mika
1/Lt. J. A. Nations of Atlanta, GA
Sgt. J. W. Buckingham
Sgt. C. J. Butkovich
Sgt. A. E. Blair
Sgt. A. W. Alford
Sgt. J. C. Polk
Sgt. A. O. Peterson
Sgt. O. B. Johnston
Sgt. E. E. Davis
Sgt. T. J. Katzben
Cpl. U. B. Moore
Cpl. F. Patricio
Cpl. M. R. McCorckle
Cpl. A. E. Westgaard
Cpl. J. M. Carhart
Cpl. A. J. Baker
Cpl. Vernon I. Meadows (missing for a day after parachuting)
Pvt. S. W. Reese
Pvt. J. W. Dickason
Pvt. R. Murphy
Bryan Air Force Base Bus Crash
- 1955
On August 26, 1955, the Bryan Air Force Base baseball team was traveling by bus to a tournament at Barksdale Air Force Base in Shreveport, Louisiana. On the Bryan team was S/Sgt. Frederick A. LeClaire, who had pitched for the Goldsboro Cardinals in 1950. About three miles from Cushing, Texas, the bus blew a tire and plunged over a 30-foot embankment into a dry creek.
The injured managed to crawl out the windows or were helped out by rescuers. Trapped in the wreckage and fatally injured were A/1c Lloyd D. Buresh, a young ballplayer from Karlin, Missouri, and the driver of the bus, A/1c James C. Kirkpatrick of Buff City, Tennessee. Both died at a Nacogdoches hospital shortly afterwards.
Fred LeClaire was among the 13 others who were injured, four of them critically. However, there were no further fatalities.
Players involved in the bus crash were:
A/1c Lloyd D. Buresh of Michigan
M/Sgt. William C. Littlejohn, Jr.
A/1c George E. Smith
S/Sgt. Frederick A. LeClaire (pitched for the Goldsboro Cardinals in 1950)
T/Sgt. Robert T. Moore (team manager)
A/2c Eugene C. Chigounis of Passaic, NJ
A/2c Robert C. Zittlow of Wisconsin
A/2c Lewis Robinson of Medford, MA
A/1c Lionel J. Noreau, Jr. of Massachussetts
1/Lt. Pasquale P. Pavone of Massachussetts (in charge of the team)
A/2c Bobby E. Jackson of Austin, TX
A/2c John H. Shaver of Wyoming, PA
A/2c Edward E. Heymen of Miami, FL
A/lc James Creager
Can you add more

military team tragedies a

nd help make

this

the best online resourse for

military baseball? Contact us by email
Baseball's Greatest Sacrifice is associated with Baseball Almanac

Baseball's Greatest Sacrifice is proud to be sponsored by